Online lessons: yes or no? – The Advantages and Disadvantages
If you don't have a Portuguese school in your town, probably you already think about the possibility to have online lessons. Today we will talk about the differences between school and online lessons, plus and minus, and types of courses.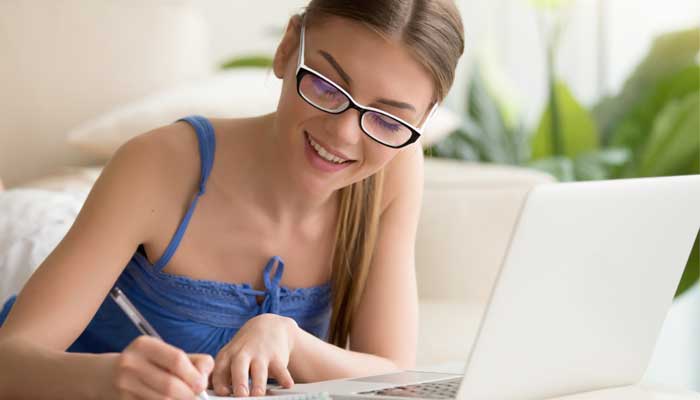 School vs. internet
First of all, let's see the differences between both considering several aspects:
– Materials: at school teacher can use difference "physical" materials in order to engage the students in the activities, but in the second case these ones should be able to be sent (in an electronic format).
– Board: at classroom teacher can write everything he wants on the "physical" board, but usually it doesn't work on camera; in this case it's necessary a special program or website, or simply to use a chat to write.
– Number of students: is always better to work with small groups than with big ones, because in the first case students can receive more attention. Although, sometimes teacher have to deal with bigger groups. At school, it's possible to join them in small groups and drive several communicative activities. However, in a video chat only one person can speak at one time, it means is not possible to form 2 groups of 3 persons and make them talk each other. That's why in this situation we don't recommend groups with more than 3 students. Otherwise, the lessons will be more expositive than communicative.
Advantages and disadvantages
In order to make a decision, we have to put the plus in one plate, the minus in other plate, and see which one is heavier.
Let's start with the bad news…
– Frequently students have to print the materials by themselves.
– The instructions should be more clear, because through webcam is more difficult to point or show something.
– The oral interaction should be intense; because on internet the diversity of activities is limited, teacher should make up for it with interaction.
– Obviously the connection should be good.
And now the good news are:
– You can save time and money on trips, because you can learn everywhere (at home, at office, even in a cafe)
– It's comfortable: you just need to open your laptop and start.
– Students can keep learning with us after comeback to them countries.
– Usually schools can make better prices in these courses because they can reduce the costs running them.
– In some cases, it can be more flexible in terms of schedule and frequency.
Types
Until now we only talked about the online lessons in classroom format, that is group or private lessons. Nevertheless, when you search for "online course" you can find different things. Here are some examples:
1) Webinar: in this format usually teacher explains subjects and students listen and can write questions in a chat.
2) Video lessons: it is presentations in video and people learn by watching them.
3) Tasks in a platform or app: here the variety is huge; we can find a wide range of activities, more or less interactive, usually after some introduction or preparations for the exercises.
4) Learning by correspondence: consists in a collection of didactic materials sent to students. Usually they have tasks to do, through which the progress is tracked.
All formats can be used to learn Portuguese, but all formats are limited.
Firstly, there's no oral expression. People learn Portuguese language to speak. So, to do a course and never talk is like to read a driving book and never drive. Moreover, the oral comprehension is not really tested. In other words, students never know if they understand Portuguese people, or just understand a teacher who usually speaks in other language (e.g. English) the most of the time.
Second problem is the grammar. Most of these systems doesn't follow a defined program with a step by step approach. Things are made to be attractive, but we can find mistakes there. Also, they frequently mix Brazilian and European Portuguese.
Finally, our goal is not to criticize. Use them, but don't forget the limitations!
Standard Portuguese Online Course
We noticed that for some students it could be difficult to have lessons in a mini-group (2-3 students per group) or to have private lessons.
When we start a course we must set a schedule. Although, for different reasons, some people cannot attend all classes and this is a problem. An alternative could be private lessons. However, for some of them this format could not be the ideal as well.
We are always attentive to the needs of our students and many have asked if we have an online platform for learning Portuguese. These students clearly belong to the group above. So far the answer has been "no" but soon it will be "yes"!
Caravela is developing a course in a platform, where students will be able to learn Portuguese language in a balanced and systematic way. It's a step by step approach, that includes all aspects: oral expressions and comprehension, grammar, text comprehension and write expression. The whole learning process is followed by our teachers.
Wait to see the Standard Portuguese Online Course by Caravela.
Because besides being a Portuguese school for foreigners in Caldas da Rainha and Matosinhos, we are also content makers.