Learn to speak Portuguese in Leiria
Olá!
This month we opened a new school in Leiria! This is the perfect time to tell you a little bit more about our city and region and what you should do here while you are learning Portuguese with us.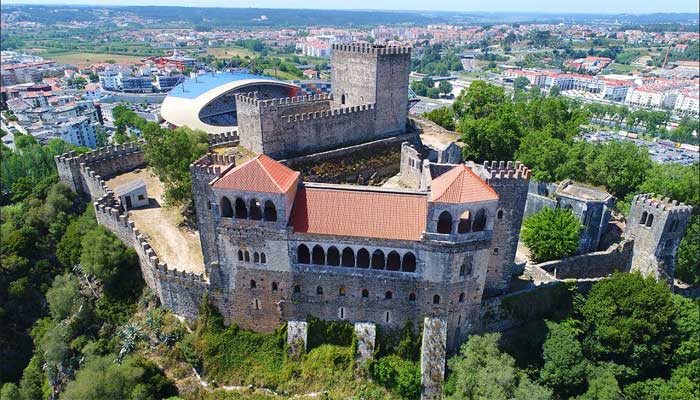 Leiria and surroundings
Leiria is a place full of history and Portuguese culture. For example, you can't visit Leiria without seeing the sanctuary of Fátima, the biggest religious place here in Portugal.
Its magnitude and relevance have long been consensually recognized, nationally and internationally. Is one of the most important Marian shrines in the world belonging to the Catholic Church.
Besides that, the Mosteiro da Batalha (Monastery of Batalha) and the Castelo de Ourém (The Castle of Ourém) are two unmissable spots.
Leiria
Leiria is a district capital city, located between Caldas da Rainha and Coimbra. It's known by its amazing architecture and buildings, that represents our history and culture. Everyone who wants to see a typical Portuguese city, should definitely come here!
Furthermore, Leiria has an excellent gastronomy, many different museums, monuments and a lot of green places to walk and enjoy.
What to Do & Where to Go in Leiria
Leiria has a lot of places to visit, since castles, chapels, museums, restaurants, streets and the historical center.
Castelo de Leiria
If you are interested in Portuguese history and culture you should visit Leiria's Castle. If you are not interested, you should go anyway, because it is a very beautiful place to take a walk and a deep breath. It is open every day and offers you the best view to the city of Leiria.
Capela de Nossa Senhora da Encarnação
Speaking of city views, we also have the chapel of Nossa Senhora da Encarnação. It's a very calm and quiet place, surrounded by green and has a beautiful view as well.
Sé (or Catedral) de Leiria
Constructed in 1559, the Cathedral of Leiria is a magnificent and imposing monument. It is a typical representation of the mannerist architecture. This important cathedral has been classified as National Monument in 2014.
Estádio Municipal Dr. Magalhães Pessoa
In addition, you know that football is a big thing here too, so you can visit the Dr. Magalhães Pessoa Stadium. It has a very modern and creative design and it's huge! Nowadays, no more soccer games are realized in the stadium. Instead of that, in this place many events are realized: concerts, several spectacles and the famous Feira de Maio.
Museu da Imagem em Movimento
If you are a fan of photography and cinema you can visit this museum. It was awarded in 2011 by the National Association of Museology with an honorable mention in the category of Best Portuguese Museum.
Centro Histórico
If you like to go out, you also should visit the historical center of the city, starting by the Rodrigues Lobo Square (Praça Rodrigues Lobo). There, you can find the nightlife of Leiria, and even during the day. It is a very good place to socialize and drink a coffee or some drink with friends.
Rio Lis
If you rather prefer something healthier, you can take a walk by the Lis River. Also, you can try the Pedrogão beach or the beautiful São Pedro de Moel. They have many places for you to take a walk with your time and on your feet. Then you can stop and get a "Brisa do Lis", a typical candy born in Leiria.
Jardim Luís de Camões
It is the biggest green space in Leiria. It is a beautiful garden with a view to the castle. It is a nice and pleasant spot to take a walk or simply relaxing on a sunny day and enjoy the view.
Frequently, some events about art or music are organized in this garden, also antiques or books markets.
Curiosities about Leiria
Brisa do Lis
You can't leave Leiria without try the most popular pastry there. Brisa do Lis was born on Leiria and it is mostly made of eggs, sugar and almonds. It is the perfect snack to take with a coffee.
Feira de Maio Party
It takes place from April 23rd to May 24th. It is the biggest event in Leiria and one of the most important in all center region of Portugal. At this party you can go to concerts, have fun with your family in the carrousels and of course, try all the candies.
In addition, you can have a meal on gastronomy square (Praça da Gastronomia). Here you can try not just common candy and pastry, but also typical snacks from Leiria, made by its citizens, during the party.
Leiria Medieval
Every year in July and during four amazing days, the city of Leiria organizes an historical trip to the Medieval Age. It is a huge historical recreation of this time with music, theatre, markets, traditional food and characters, all around the historical center. This event is very famous, not only in the region of Leiria but also in whole Portugal.
Caravela School in Leiria
Caravela School is really close from the main interests of Leiria city. It's just 5 min walk from the historical center and the beautiful Rodrigues Lobo square (Praça Rodrigues Lobo). There, you can take a drink in one of the many terraces and enjoy the magnificent view to the Castle. After that, you can take a relaxing walk across the Luis de Camões garden or discover the historical streets with a lot of typical stores and restaurants.
Why not to have dinner in one of the typical restaurants close of the famous Cultural center Mercado Sant'Ana? And watch a play in the Miguel Franco´s Theater?
Finally, Caravela School is less than 30 min by car from the Beach of São Pedro de Moel. So you can relax and enjoy the sun after lessons.